MLB News
Vote yet to happen on A's Vegas stadium plan
The Nevada Senate adjourned Thursday without voting on a financing bill for a proposed $1.5 billion Las Vegas Strip stadium for the Oakland Athletics.
Guardians' Ramirez homers in 1st three at-bats
Jose Ramirez homered in his first three at-bats -- and from both sides of the plate -- to power the Guardians to a 10-3 win over the Red Sox.
Bass: Anti-LGBTQIA+ post I shared not hateful
Blue Jays pitcher Anthony Bass said Thursday that he didn't believe the post he shared, which described the sale of LGBTQIA+ merchandise as "evil" and "demonic," should be considered hateful.
Astros star Alvarez exits with oblique discomfort
Astros slugger Yordan Alvarez exited the loss to Toronto after one at-bat Thursday because of discomfort in his right oblique.
Mets' Alonso to get more testing on injured wrist
Mets star 1B Pete Alonso returned to New York on Thursday to get more tests on his injured wrist.
Belmont calls off racing, Nats PPD due to smoke
Racing at Belmont Park was canceled and the Nationals' home game against the Diamondbacks was postponed Thursday because of poor air quality from wildfires in Canada.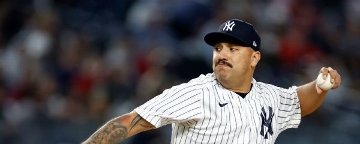 Yankees put Cortes on IL with rotator cuff strain
The Yankees have placed pitcher Nestor Cortes on the 15-day injured list with a left rotator cuff strain.
MLB Mock Draft 1.0: Who will go No. 1?
It's time for our first look at how every first-round selection in July's draft will play out.